MetLase's technology is based on precision laser-cutting, press-brake bending, and a set of patented joining methodologies to suit all applications. Delivered using our innovative approach – especially the fact that a single engineer will "own" your project from the design to the construction stages, with no middlemen or other dependencies – this simple but ingenious combination can address a huge range of difficulties.
Precision laser-cutting ensures that each piece is faithful to its design and that each successive piece is faithful to the first; the only things that change between iterations are the ones we actually want to change. Capable of cutting simple metals or high-grade, aerospace materials with equal precision, the laser cutter has a precision of less than 10 microns.
Patented Joining Technology
Precision cutting on its own is no good, if the joining methodology is then going to deform the metal. MetLase's patented joining technology utilises the strength of the parent material without any other interventions. This eliminates the heat deformation which arises from welding; instead, we employ mechanical joins, which hold as solidly as a weld, some of which can even be unfastened and re-fastened for repeated assembly.
The twist-dowel is our most commonly used fixing method; precision cuts in the material create a dowel which provides the inherent accuracy, the remaining profile can then be twisted with a simple tool to provide a firm joint. This twist can be made permanent, or can be used repeatedly (for design-iteration or re-assembly) many times without damaging the metal. Solutions using the twist-dowel can be flat-packed for easy transport and assembled with ease at their destination.
Twist-dowels are not suitable for all applications; those that require a flush surface, for example, might require a flush fastener or a slot rivet, either of which can be made in different sizes and be made to produce a flush-finished surface. Screw locks and slot locks are also employed by our engineers when the design deems it appropriate.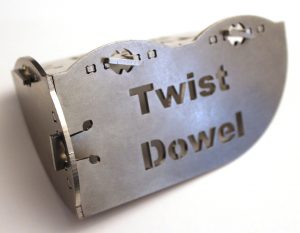 Laser cutting is the most versatile technology for cutting sheet material. It allows the rapid processing of almost any material, in a wide range of thicknesses and within tolerances of tens of microns. The small kerf allows intricate features to be cut, while the process itself, when sufficiently carefully programmed, allows for minimisation of the thermal warping.
Through years of continuous improvement, MetLase have mastered laser cutting to an extent that allow us to extract the maximum known precision from the technology. Many different metals can be laser-cut, and the parameters of the laser cutter are carefully adjusted according to the design. (For example, the piercing point is always placed where it won't affect precision and on a sufficiently long lead-in, while the laser-power and cutting-speed are tuned according to the metal-type and thickness.)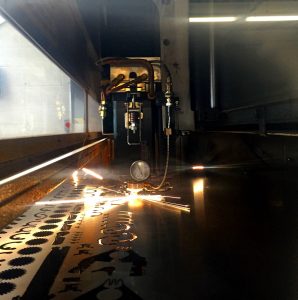 Our smart connecting features enable us to create a wide array of constructs, but those capabilities are really empowered by our special bending techniques.
We have created a range of tools and mathematical analysis, that allow us to bend our parts on a standard press brake with unprecedented angular and linear accuracy, on parts as small as penny.
Although bending titanium is particularly challenging, due to its elasticity being far greater than that of steel, we have mastered this process as well.
The main tool of the design engineer is his/her drawing board. The contemporary drawing boards are digital and consist of Computer Aided Design (CAD) software and an engineering Workstation. While the computer itself can increase the performance of a designer, it is the CAD software that defines the limits of what can be achieved, by providing the means to express his/her ideas.
That is why we use, what we consider to be, the best CAD software on today's market: Siemens NX, but is also the reason whey we will never stop looking for ways to improve our design process.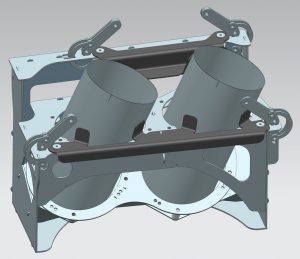 Nesting software is an important part of every business that produces its own sheet-metal parts. Its role is to adequately translate the design created in the CAD software into the particular language understood by the CNC sheet-metal cutting-machine, while saving time to the engineers. A well designed nesting software system maximises the quality of the produced parts, shortens the production-cycle and minimises the related costs and material-waste.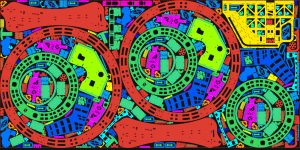 MetLase works principally with stainless steel in various thicknesses and titanium (particularly useful for springs). However, we can also cut a range of other metals, such as high-temperature nickel alloys.
Most other materials can be laser-cut, for example PTFE for low-friction surfaces and copper which has RF applications.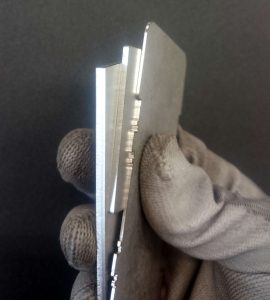 MetLase is a based on solid mechanical engineering, and we have a range of standardised mechanisms, including levers, springs, pantographs, over-centre-clamps, gears, and mechanical displacement amplifiers.
The ability to quickly and precisely fabricate these mechanisms, and integrate them into our designs is how we make MetLase fixtures so capable. It also makes MetLase tooling simple, reliable and pleasant to use.
We can also integrate a range of electronics and sensors for self-calibration, metrology, and process-monitoring.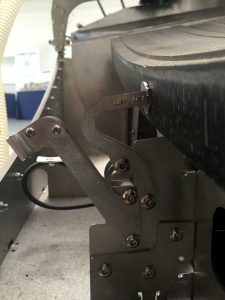 Of course, the greatest "technology" is human ingenuity, and MetLase's engineers have designed a variety of other bespoke solutions which add to the tools at their disposal. Titanium clips and two-way springs have been created to solve specific problems and then adapted to solve different ones; new combinations of our technologies are constantly being found to create innovative solutions to new and old problems.
Each MetLase engineer can work with you to specify your problem, design a solution, construct and iterate it with you and deliver a finished product, without having to wait on the availability of others. The technologies we use, created in the rigorous environment of the aerospace sector, are now available to everyone, and will ensure you have a swift, innovative and bespoke solution to your problem, delivered by a dedicated and expert engineer.