MetLase challenges the manufacturing sector to go digital
Published by Engineering Update: April 2021

MetLase, one of the UK's leading specialists in tooling, intelligent fixturing and components, is launching a new range of 'digital' solutions that will connect manufacturing processes and enable easier, faster automation.
Manufacturers are increasingly looking towards digital transformation and how Industry 4.0 technologies can be embedded in all processes. However, the big question remains…in the formative stages of the roll-out, how does a business ensure it gets a return on its investment, whether that is increased efficiency, cost savings or reduced lead times?
Through innovation and advanced technologies, the Rotherham-based company is scaling up the production of a suite of disruptive smart solutions that can deliver this crucial competitive advantage. Richard Gould, Business Development Manager at MetLase explains…
Human error remains a leading cause of machine downtime in factories
We offer process solutions that have no room for error. Using a variety of sensor technology, our experts have designed and built a series of smart products that can be customised to suit the manufacturing process.
Design engineers are equipped with digital skills to offer advanced solutions to manufacturing problems. But non-human error, such as equipment moving out of tolerance, can also cause massive production problems – our technology can also detect this failure before it becomes an issue.
'Factory of the Future'
The 'Factory of the Future' is a more efficient factory that always delivers products to its customers on time…but how can businesses implement this concept?
MetLase products can be introduced at different stages of the production process, with our most recent launch being the Smart Gauge, which was developed to solve the complex production issues of one of our customers.
Imagine a production line where an existing 90-minute quality check can be achieved by simply using a 4-second quality check carried out by a MetLase Smart Gauge.
That's the transformation that MetLase's smart product has delivered.
In the current climate, waste in any business is a cost that needs to be avoided, so when one of the UK's largest plastic fuel system manufacturers challenged us to fix a production problem we jumped at the opportunity.
Using our multidisciplinary team of engineers we were able to design and build the right solution. And the solution didn't only rectify the problem, it also delivered extra functionality that transformed the process.
On this specific occasion, with around 49 points of data to inspect, the manual inspection process can take around 40 to 90-minutes to complete. If the production line stops due to a fault, a substantial amount of scrap can occur.
Turning to a digital solution that automates the inspection process would provide an instant assessment of the fuel tanks.
Rapid 4-second Quality Check
A Smart Gauge, which has over 50 different sensors, was the solution and can inspect the fuel system instantly, reducing the time taken from potentially 90 minutes to just four seconds.
MetLase engineers developed the technology to include a 'plug and play' feature, which integrates into the Smart Gauge fixturing system.
Smart Assembly
Also in development is our Smart Bench. Recognising the benefits of using digital sensors at different parts of the manufacturing process, sensors have been embedded in workstations to guide workers to the next step in assembly or alert workers if the wrong part is picked, providing Standard Operating Procedures at every stage.
Building the Factory of the Future
MetLase's strategic plan will see the development of a suite of digital technologies, including digital twins, process modelling and simulation, control automation, industrial robotics, artificial intelligence, software programming, sensing, 3D printing, machine learning and augmented/virtual reality systems. All of these can be sold into key markets like automotive and aerospace, as well as emerging sectors such as off-site modular construction and renewable energy.
We are investing £1m – backed by £400k of funding from the Sheffield City Region LEP's Business Investment Fund – to roll out our standardised Industry 4.0 digital products to customers both in the UK and overseas.
Challenge us with your problems
Going forward, we are looking for businesses to work with us to further develop these solutions. If you have a problem with your manufacturing or feel that there must be a better way to run a process, then challenge us!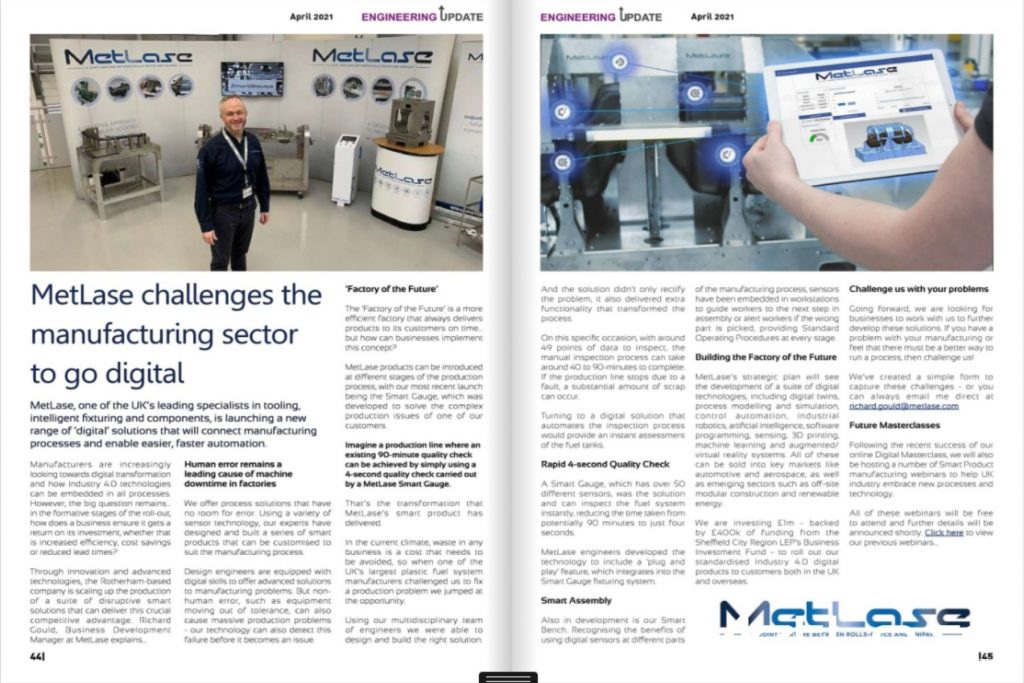 SHARE THIS STORY…
More MetLase news articles…