How Horizontal Innovation enhances your business agility
Published by Engineering Update: December 2021

What can seem like a daunting problem in your business can sometimes be simply resolved by transferring technology from another sector – but accessing and transferring can be difficult. MetLase is experienced in this horizontal innovation transfer.
In one of the most disruptive years in manufacturing, some businesses have embraced and accelerated their digital journeys while others were required to put digital transformation on hold and are now playing catch-up. In both of these cases, businesses can benefit from MatLase's approach.
MetLase, a joint venture between Unipart and Rolls-Royce, explains how horizontal innovation could be the key to unlocking potential growth opportunities to bring emerging businesses out of the COVID-19 pandemic stronger and more agile to create competitive advantage to the manufacturing industry.
With foundations based on horizontal innovation, MetLase draws on the heritage of both parent companies in aerospace and automotive. The vision, to take expertise in fast-make tooling and fixturing methodologies cross-sector to rapidly solve some of industries greatest challenges.
Breaking down your current restrictions
The UK is recognised for its creativity, research, and innovation, but often technologies or processes can get locked into one sector or industry. MetLase offers digital manufacturing solutions which can be embedded in your manufacturing processes to standardise for consistent and accelerated quality and delivery.
By sharing best practice cross-sector, MetLase wants to break down barriers to enable innovations to be used where they are needed, and not just in the sector in which they are created.
The key to success
"The power of a true cross-sector solutions provider like MetLase is the visibility of the engineering challenges and how we have solved them across the sectors we serve. Combined with a highly skilled and knowledgeable team, this mix accelerates horizontal innovation, allowing us to solve the complex manufacturing challenges that our clients pose" explains Dr Stewart Lowth, Product Development and Innovation Manager at MetLase
Stewart continued, "This horizontal innovation is especially evident in our digital platform, where inspiration from highly connected and robust consumer electronics has been applied to industrial measurement. In one example, "smart-phone" style sensors were used to replace a manual measurement process. We looked beyond traditional industrial sensing and found a synergistic technology that matched the accuracy and cost requirements of our client, predicting a time saving of up to 45%.
MetLase has continued to adopt, diversify, and develop Industry 4.0 technologies to drastically improve the performance of their fast-make tooling and fixturing.
Founded on a premise of horizontal Innovation, MetLase parent companies joined forces with a mission to adapt our advanced aerospace-grade fixturing technologies to the production challenges of other industries. Beneficially, this mandate also allowed MetLase to level the learning from these other industries back into the aerospace sector, addressing the challenges they faced around lowering costs and increasing productivity.
Lowth concluded: "We believe we have an engineering team experience, as well as expertise across multiple sectors – knowledge and capability needed to deliver a solution for every problem imaginable.
"So, we invite industry to challenge us with your manufacturing problems and let us deliver the solution."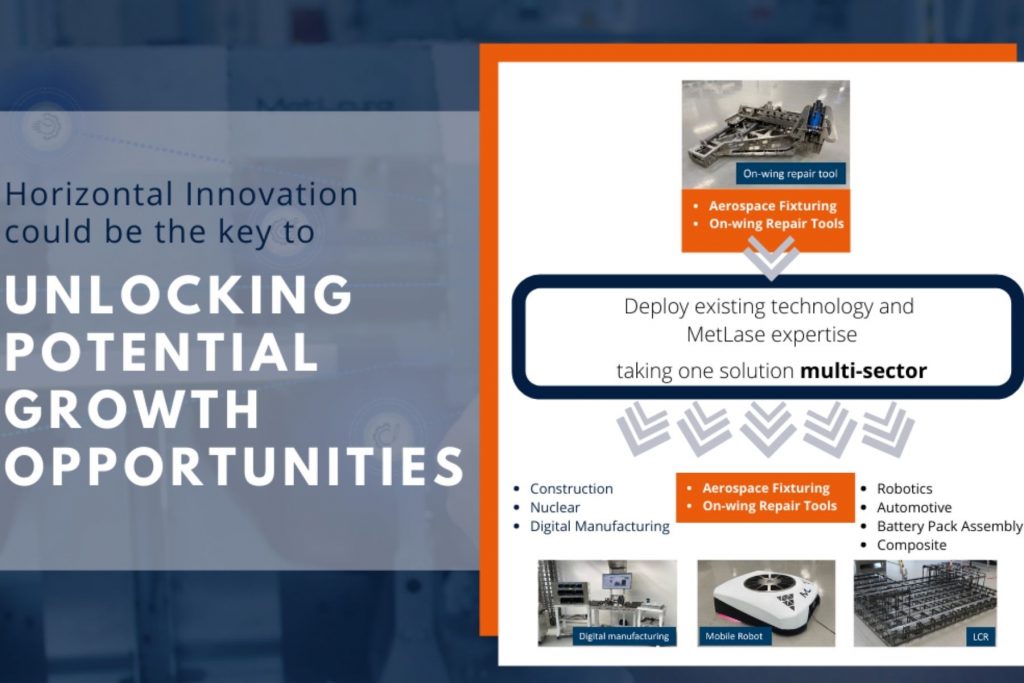 SHARE THIS STORY…
More MetLase news articles…