Engineer to Engineer:
Developing SmartGauge
We met up with Laura Hinks, one of our Design Engineers on developing SmartGauge and what MetLase Digital Manufacturing Solutions means to our customers…
In a world dominated by smart technology, MetLase offers a variety of solutions to everyday manufacturing problems. But what does this really mean? If we want manufacturers to invest and adopt our technology, we need to give a clear insight into the real benefits that can reduce costs, improve your processes and be first to market. Who better to ask, but the Engineers who developed the product…
Laura Hinks has worked for MetLase since 2019 as a Design Engineer, "What's really exciting is Digital technologies have rapidly changed the way we work and problem solve in MetLase, using a variety of digital disciplines to enhance the fixtures that we design on a daily basis. By utilising the fundamental principles of Industry 4.0 technologies, we offer our customers so much more accurate and repeatable data to help with any processes they are looking to improve.
What is SmartGauge?
I've been involved in the development of the SmartGauge product from the initial concept stage and we have now designed a standard, modular, digital gauging station which can be adapted specifically to suit the individual customer needs. The station can either be placed in line with current manufacturing or assembly lines, or it can be used as a standalone station to suit any situation.

We, as a team, identified from the start of the project that we needed to create the ability to validate manufactured parts in a matter of seconds using a number of pneumatically operated measurement towers. By simply placing the parts into the fixtures, seconds later the user receives a Go/No-Go light confirming the validity of the parts. It was from this basic concept that we continued on as a team to develop a solution that gives a huge amount of data in real-time.
Digital Design
We designed the SmartGauge bench because we recognised that a solution that greatly reduces design and manufacturing time translates to a cost-saving for the customer. The bench features – CMM style top plate, measurement towers, electronics and pneumatic systems – have all been developed into a robust base for the bespoke element to be applied to.
Customisation
At MetLase I'm one of a really diverse group of Engineers, and we all come from different backgrounds which really lends itself to creating the bespoke elements to each fixture. Utilising digital technologies when problem-solving and designing allows us to make each fixture as smart and efficient as possible."
With the launch of our new Challenge Us campaign, we are supporting our manufacturing customers, helping turn concept and design into reality. If you are interested in further information and want us to take a look at your manufacturing challenges, do not hesitate to contact us today.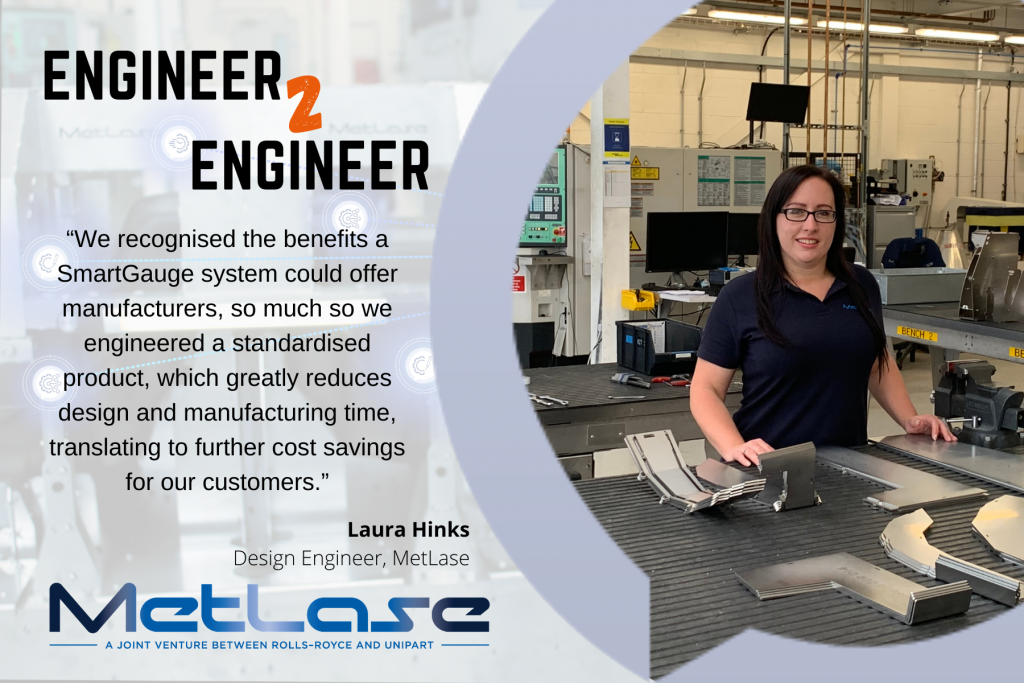 SHARE THIS STORY…
More MetLase news articles…