Why is the (patented) Twist Dowel so clever?
The simple twist-dowel fastener, invented by Jeff Bishop, is a work of genius: it can be cut out as part of the laser-cut outline, and rapidly assembled. The result is extremely precise.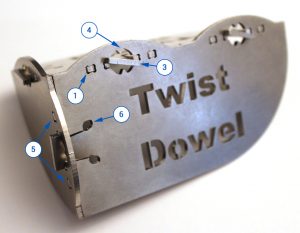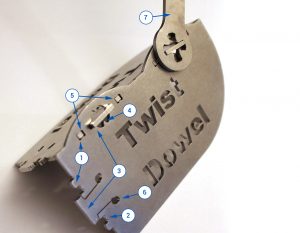 Here are just a few of its clever features
The dowel locks into place, so that, when the inner part is twisted, the outer part of the frame is not distorted at all.
The facing surface is highly precise for alignment in the z-direction.
The twist-part fits into the opposing face, and is then tightened. As it is tightened, it "screws" the parts together, pulling them together very tightly. Friction holds it in place (even under vibration). The result is as strong as a weld, without the distortion inherent in welding.
There is an inbuilt limit, to define correct tightening. When the part is fully tightened, it can still be done up and undone 4-5 times, without fatigue. If done up loosely, at least 1000 cycles are possible.
The shape allow the parts to fit together easily, while keeping precise alignment in the x- and y– directions.
The cut is precisely shaped so that the twisting does not distort the body of the metal, and so that stress-fractures cannot propagate.
The forcing tool can also be laser-cut. So we never run out of spanners.
Twist dowels are usually made from 3mm stainless steel, but can be made as thin as 1mm.
The twist-dowels are cut in a carefully determined order on the laser cutter, in order to minimise distortion due to thermal expansion.
Twist Dowel specifications:
Dimensions
Maximum tensile strength
Fatigue life
Vibration resistance